Workflow
When budget permits my workflow involves several elements. Once the lav and boom audio are sent to the mixer the tracks are routed into an auto-mixer. The mixer then routes a wireless mix to the camera by a wireless transmitter and to the Director by way of the IFB. The time-code generator is jam synced to the mixer and then connected to the camera to maintain accurate time-code. A track breakdown and a few videos providing an explanation of what an auto-mix is and clarity on how time-code works are listed below.
It looks complicated but it is actually quite simple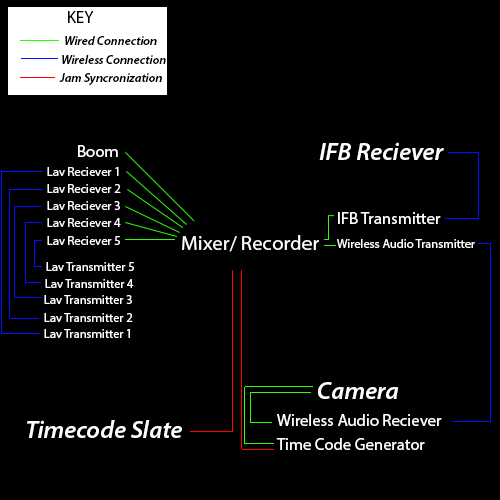 Files are saved to a CF card as a Poly .wav file. A poly .wav is an audio file that is essentially multiple .wav files contained in one file to make things easier to manage. They are then separated in post in your editor, or DAW.